Sales Services provided by Cray & Norton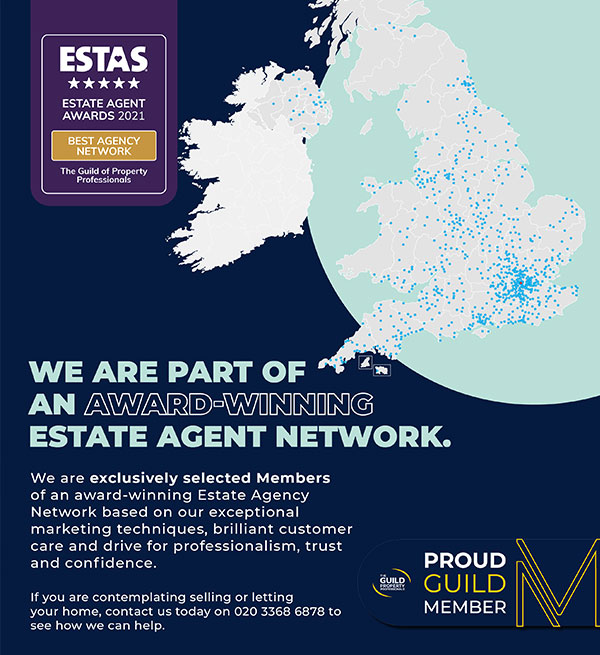 Sole Agency
Selecting the perfect estate agent to represent your interest is most important. - Sound local knowledge, well trained highly motivated staff, clear, fair terms of business, a competitive fee structure and a proven history of sealing deals should be high on your list of priorities. The agent that gives you the highest valuation is not always the best for you. Our staff are trained to an exceptionally high standard having completed the "Guild Associate Training Scheme" that is approved by Cambridgeshire Trading Standards, so you can rely on us.
Our marketing is also second to none with your property being promoted on all three major property portals to include Rightmove, OnTheMarket and Zoopla, plus our network of 800 Guild Agents Nationwide gives us access to 1000's of active applicants looking for their perfect home. Add to this our House shaped "For Sale" board, property magazine, online presence and many more innovative marketing tools you really would be in safe hands.
Multi Agency
Cray & Norton rarely offer this service but for those clients tied in to contracts with other agents, who have failed to secure a buyer, we do make exceptions. After all no other Croydon based Estate Agent can match our marketing package (if you don't believe us, then call us and we will prove it!).
Discreet Marketing
Cray & Norton are aware that some clients require discretion and confidentiality. It may be that you have lived in your home for most of your life and don't wish to alert your close neighbours and friends of your intention to move until you have completed on the sale, or maybe you just don't wish to have your business or the sale price made public until completion. As a member of The Guild of Professional Estate agents and with the office in London, Mayfair we attract many UK and International clients who require a different kind of service with no publicity so you are in safe and competent hands.
We will provide a bespoke service that meets your needs with senior management personally looking after your sale or purchase.
Please email the Director (Darren Cray) directly and discretely at darren@crayandnorton.co.uk
Additional Services
Conveyancing
Cray & Norton have had long term relationships with two of the best local conveyancing companies and we would strongly advise that you take advantage of our recommendations, it will result in you having a much easier, stress free and speedy transaction be it for purchasing or selling a home.
Financial Services
We have worked alongside our selected independent broker for many years, clients who struggle to find a lender or want a better mortgage rate really should take advantage of our connection. You really won't find a nicer or more professional broker.
Energy Performance Certificates
Town & Country Inventories Ltd are an associated company of Cray & Norton who provide us with our Energy Performance Certificates. If you would like further information or a quote then please call 020 8240 6637.